I have to fess up here.  I'm always trying to shock you with pictures and stories of weird foods. But in all reality, the food in China is SO INCREDIBLY DELICIOUS!  We feel so blessed to live here!  I mean, we could be in a country where there isn't enough to eat, or where the food is terribly bland and boring.
Here is the view across the table at a family feast.  I was fortunate enough to be included in this Labor Day Holiday celebration.  The chopsticks to the left are digging into sweet and sour fish.  Oh, it was good!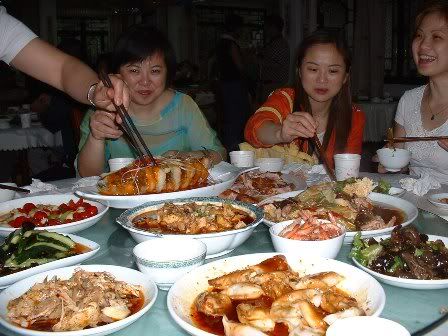 And the food kept coming and coming and coming.  So much that we were stacking the dishes on each other.  We got up to three layers in some places on the table!  My friends laughed at my taking pictures of the spread, but I think they were secretly pleased at my delight over the bounty they offered me!  I ate until I was hurting.  And then we had fruit!