We can't drink the tap water in China.  It's okay for washing veggies and for brushing your teeth, but without boiling it first, it's not safe to drink.  Living overseas I have realized that America is one of the few countries in the world that flushes toilets and does laundry with water that can be drunk!  After living here, it seems such a waste!
A funny and true story about water….
After living in China for three years, we took our then 6 year old daughter back to USA for a visit.  She knows very well the difference between drinking water and washing water (also known as tap water).  Our first moments in America, we were exhausted from the long flight of course, so we got a hotel room.  After crashing for several hours, we all woke up at 3 AM. (
  Thank goodness for 24 hour Waffle House!)  Being thirsty and wanting to tease my DD, I told her, "Watch this!"  I unwrapped one of those plastic hotel cups, filled it with tap water and drank it down.  She was horrified!!  She screamed at me, "You're going to get so sick, Mom! What are you doing??"  Even after I reassured her several times, she refused to drink it!  Finally after she saw me drink more and saw her dad drink some too, she trusted us enough to try it.  She had no idea that in America you can drink tap water.
Then came water fountains (VERY rare to non-existent in China).  She was so fascinated by these machines that shot up clean, drinkable, COLD, water and for FREE!  For one meal at a restaurant, she kept excusing herself to the bathroom.  Finally I realized what she was doing.  Instead of drinking her nice soft drink at the table, she was going back to the bathroom area where there was a water fountain to get a sip of water.  She just thought the water fountain was THAT interesting.  What a hoot! We teased her for a long time about that.  And that whole time in America, we always stopped for any water fountain we saw.  It's the simple things in life that bring the most pleasure, right? 
Well, back to China…..Instead of boiling water, we have water delivered in these huge bottles you see pictured.  It's only about $1 per bottle and that includes the delivery to your home!  I am so willing to pay that to keep from having to boil water!  Our delivery service is quite modern.  It's an automated telephone service.  I just press a number for what type of water, press one for immediate delivery, etc.  And a few minutes later it appears at my door!  Wonderfully convenient!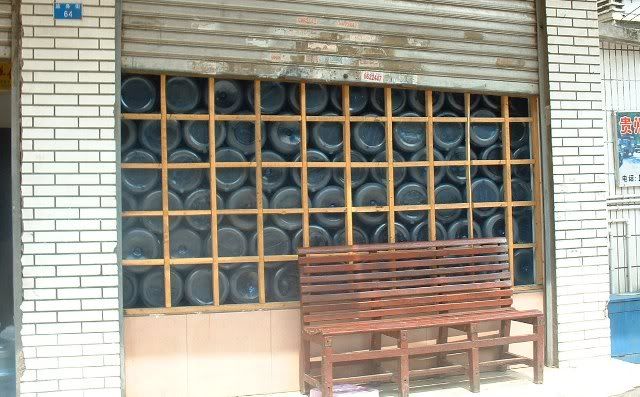 For the past five days, we've been without tap water off and on.  It's kind of normal for life in China for this to happen occasionally.  But the last stretch was 36 hours without water!  What a killer!  Of course, we had spring water to drink, but no water to flush toilets or wash dishes.  And of course, doing laundry was out of the question!  (Oh, did I say that to make matters worse, we had a house guest?  How embarrassing!)  My wonderful husband carried 2 buckets of water from a big water truck outside our apartment complex to our home three times! (What a man!!)   We filled up the bathtub and used that water for washing up.  Boy, does it make you appreciate every drop! And it's truly amazing how little water you can get by with to completely "bathe" yourself when water is limited.  But the water is back on!  Hallelujah!  And the washing machine has been working overtime to catch up on four days of laundry.
Again, it's the small things in life…. Just to hear the sound of the toilet flushing was delightful.  To take a LONG, hot shower and clean every part was a luxury!  It's good to do without for a while.  It really makes you appreciate small things all the more.