A few months ago Sprite wrote a letter to President Bush. I told her that he would return her letter, but she was very suspicious. After all, how can the president take the time to respond to a nine year old girl, a girl who doesn't even LIVE in America?
When the weeks passed, she gave up on the letter. But I knew it would come eventually.
Yesterday was the day! Here she is posing with her favorite parts of the packet. Bush's portrait and stickers that say "From the White House to Your House."

Here are some of the goodies we got. A nice shot of Bush, another one of him with his dog Barney, and even a photo of his two dogs alone. There were lots of fact sheets that were a great review for what we'd studied about American government in our Winter Promise curriculum.
And how fitting to get a packet from George W. Bush the day before his last day in office?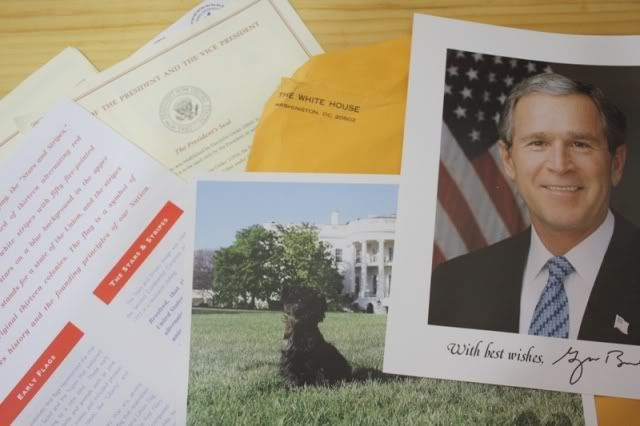 Of course, we stored all the goodies in our 50 States Notebook for safekeeping. Oh, except Mr. Bush. He was laminated and hung on the wall in Sprite's room. (She thinks he's handsome.)
Now she is excited to send a letter to President Obama, "I wonder what he will send me?"