Winter Promise is working well for us! I am very satisfied with my purchase. (And that's a good thing since I bought two years' worth of WP!) Here is Sprite engrossed in Pocahontas and the Strangers.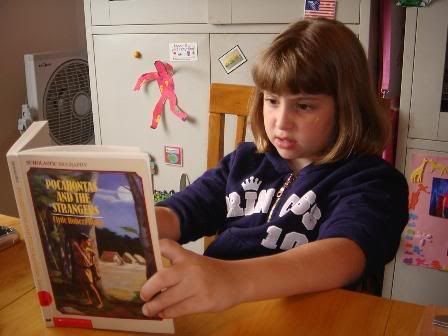 Here are two images of our timeline notebook. It's also a notebook timeline!  What I mean is that it's a timeline in a notebook. And also, mixed among the timeline pages are notebooking pages. These two are examples of what comes with the American Story 1 program. They are very different from what I have considered notebooking pages. Usually Sprite does the writing. But these are very simple — mostly drawing or coloring instead of writing. Of course, we'll still do some "regular" style notebooking with Sprite doing the writing.
See Columbus carrying a cross onto the New World?
This book Southwest Indians is so fun! And so easy for me! I simply photocopy the project pages, we color, cut, and assemble. Voila! The crafts are really meaningful, that is, they teach something.

We've been adapting some of the projects to put into the notebook. For example, this  is a 3-D diorama. We flattened it and glued it onto cardstock.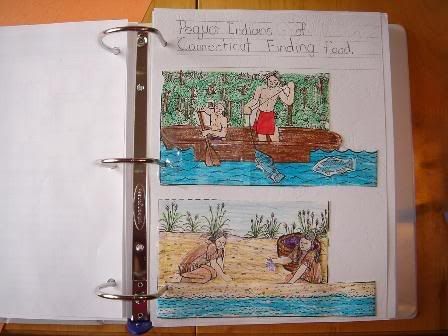 Homeschooling went amazingly well this past week. What a blessing. There was no complaining, just patient work. It's still a holiday here (for Chinese New Year), so each afternoon or evening Sprite has had opportunity to play with local friends. My guess is that the time with her friends was a good motivator to do her work well (and quickly).