I've been investigating living math for quite some time now. And I've slowly started introducing some elements into our homeschool – a weekly game or puzzle instead of using the Singapore Math textbook and workbook. I've even gone so far as to purchase some lessons from Julie at LivingMath.net. (I'm still waiting for the holidays to be good and over to actually receive it, though.) I'm committed to changing the way we learn math.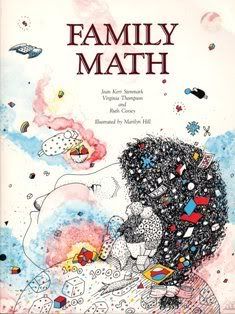 So far most of our activities have come from the Family Math book (pictured at left). They are quite fun and really help to improve Sprite's motivation to do math as they hone mathematical reasoning skills. That's all good and well. But the textbook and workbook are really a lot easier.
I know why people don't do this living math thing. It's not quick. First I've got to plan something to do. Using Singapore math is pretty mindless as far as planning goes. But with living math, I can't just turn to the next lesson and do the accompanying workbook activity. Instead I've got to look through the Family Math book, choose something, and then prepare the materials needed.
And living math is not so neat. One project – a very meaningful project, mind you – involved a super long strip of fax paper and gazillions of tiny squares glued on to a number line.
The idea was to demonstrate with squares all the possible multiplication problems that could result in that number. As an example, for 12 we had 1 long line of 12 squares, a rectangle made of 2 rows of 6 squares, and another rectangle of three rows of four squares.
It's a great project, a concrete model of multiplication factors! But add two curious cats into the mix and you've got a mess. Fax paper in twisted swirls, little colored squares scattered everywhere, globs of glue wiped on pants legs. After locking up the cats we did manage to complete the project.
In staging these photos, the cats came out again to play! At least everything is glued down at this point.
It was not quick. No "do exercise 13 and tell me when you're done." This took a LONG time. Granted, we've used the chart several times as a reference for doing other activities. It's worthwhile, and it's living. But it's not quick, and it's not neat.

Another example is a fun puzzle from Family Math in which you have to arrange a stack of cards numbered 1-10 so that as you turn them over you get that sequence of 1-10. Sounds easy but as you turn over cards, every other card is put back on the bottom of the deck. I thought that this puzzle was doable by Sprite, and making ten numbered cards sounded awfully easy after all those tiny squares and a maze of fax paper. I assumed she'd get so far and want some help. Then I'd give her some clues, and she'd solve it. Done. Over. Moving on to history.
But it wasn't like that. This puzzle really and truly captivated Sprite. She got so far, as I'd expected, but adamantly did not want any help. No clues. No diagrams. Absolutely wanted to solve it on her own. I was so proud of her persistence. Proud for the first forty minutes. Then I was feeling irritated. "Just give up!" I thought, "Let me tell you how to solve it!" But she remained firm. Because she was seeing slow steps of progress, she was motivated to keep going. She could get the cards to turn over in order from 1-7. It was those last three digits that she couldn't solve.
Totally impatient, I insisted that she move on to history. Putting away her cards, I started reading about the Cherokee Indians. I looked over at Sprite, defeat all over her face. She was not mad that she couldn't solve the math puzzle but mad that I wouldn't let her keep trying. Realization hit me. Forget history. This is ridiculous. I want her to love learning, and I'm being a slave to my schedule for the day instead of allowing her to go off on this tangent. (A tangent I gave her!)
I gave her back the cards and told her to keep working until she solved it. If it took all day, I would accept that. Wrestling with this problem until it was solved was more important at that moment than the Trail of Tears. In less than six minutes, she had totally solved it! Her feeling of accomplishment was obvious as she danced around shouting, "I did it! I did it!"
Lesson learned –not only is living math slow and messy, it's also amazingly rewarding!