Lapbooking is all the rage now, and we love it too, but even you don't want to do a complete lapbook, using mini-books can increase motivation to write.
Compare these two options:
1.  Hand your child a blank piece of writing paper and tell him to write a story or a narration of something you just studied.
2.  Help your child make a mini-book made from paper in his favorite color.  Tell him to make a mini-book of his own making or to narrate something you just studied.  Then let the child decorate it with drawings or clip-art.
While some children would choose the first option, most would prefer to make a mini-book.  There are many types.  But I'll give you a very basic one, one that we use over and over.  It's kind of "Old Faithful Mini-book" for us.  It takes just a single sheet of paper. See directions here.
We like to used colored paper for variety.  The books you see below are made from approximately 11 by 17 inch paper. (I cut it myself from huge sheets, so it's not exactly that size. But paper that big makes a nice size mini-book.)



On the left is a narration of the biography of Louis Braille we read as part of our unit study on blindness.  On the right is a fictional story based on several dolphin rescue stories we had read.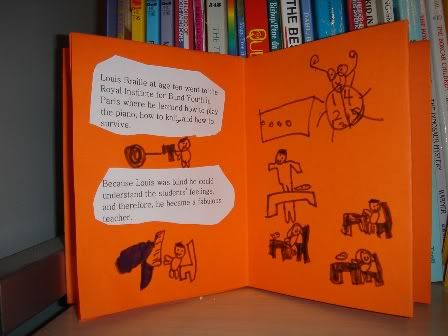 Although Sprite composed the sentences, I typed them up for her.  Then she illustrated the story.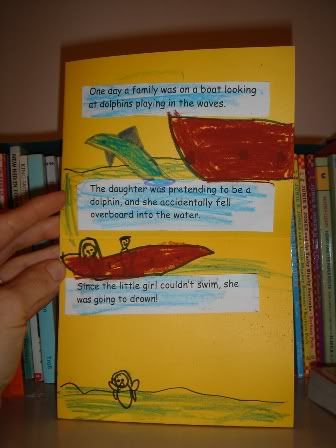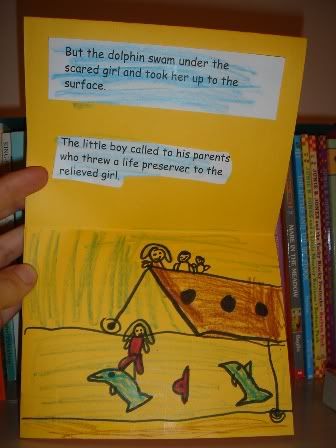 Sprite is so proud of her completed work after she makes a mini-book.  She loves to show them to guests who come over. I am glad to see her take pride in her work and enjoy a feeling of accomplishment that comes from finishing a project.
Try it!  You may like it so much that you collect all your mini-books and put them together into a lapbook.