Three weeks have passed since I decided to be serious about our CM styled nature study. I can gladly say that we've had a nature walk each week. And DD has documented at least one page in her nature journal each time. So I feel that something has been accomplished in our three weeks!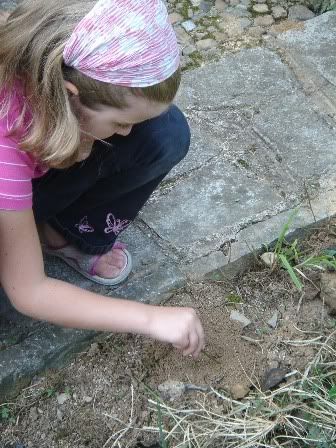 Sprite seems to have found a new fascination with insects and leaves that she didn't have before. Here she is poking at some ants. And I myself am beginning to be curious about names of trees and wildflowers that I only vaguely noticed before.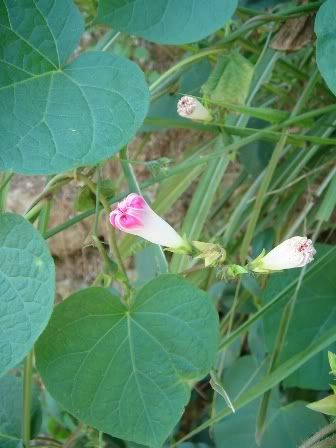 We had heard that there was a botanical garden in our general area of the city. But in the year we've lived here, we never visited it. On Thursday, we set off to find it. We had general directions and simply kept asking people along the way if we were heading in the right direction. Finally civilization seemed to melt away and we were in a quiet place surrounded by green.
It's called a botanical garden, but this park was much better than what I imagined. It was far too wild to be a "garden" in my mind. It was more like a nature reserve or a wooded park. There were almost no people there. And no one told us to "stay off the grass." We could roam about to our hearts' content, catching bugs and plucking leaves.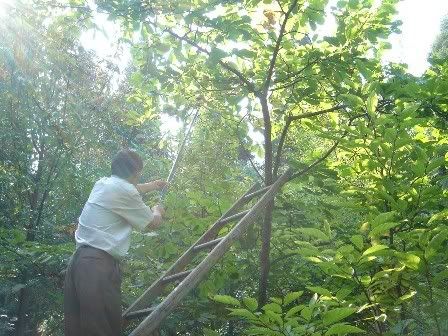 We discovered this friendly gardener cutting seed pods of what we later discovered is a rustica rubra or Magnolia Soulangiana. The seed pod is very distinctive. Inside are bright orange seeds.
The seed pod reminded me of a Magnolia, and so I searched online for the Magnolia family until I found a similar seed pod photo. When spring comes, the tree will have tulip shaped flowers all over! I look forward to that!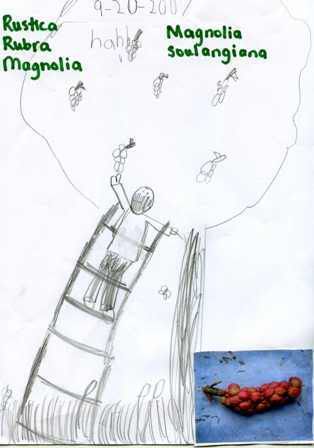 This is DD's nature journal page.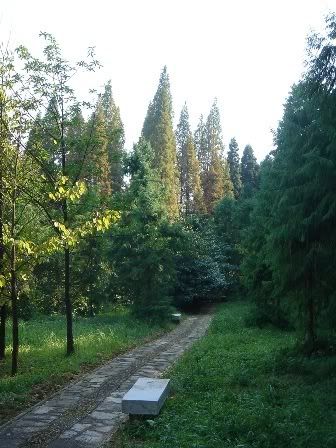 A lovely place to sit and enjoy the sensations of nature. One of the things that really made me happy about the park is that several of the trees are labeled with signs! Horray! With the Latin name, I can research the English name of each tree.
Working on a sketch of a grasshopper we caught. You can see our leaf treasures beside her.
Drawings, leaf rubbings, and photographs make a patchwork of a nature journal page.
When we got home, we used a hammer to smash up some rocks — one was a soft slate that broke neatly in straight lines. And another was a terribly hard rock with streaks of quartz in it. DD got a short hands-on geology lesson about hardness! (By the way, she thought pounding the hammer was incredibly fun. Being asked to smash things up didn't seem like learning at all. But it was!)