We took our nature walk at a park this week. I'm trying to do nature walks in a variety of locations to maintain interest and enthusiasm. So far it's working. DD is looking forward to our weekly nature study!
Inside the park is a very simple and small zoo. The doves and deer were the most plentiful and interesting, so that is what we focused on. (Sorry for the demon deer eyes. Did you know that red-eye reduction doesn't work with deer? I obviously needed white eye reduction!)
Thankfully the deer pen had a sign with the Latin name — Cervus Nippon. From searching on the Internet, I discovered that this deer is the Sika Deer also called Japanese  Deer and is native to East Asia although there is a population of them in Texas, USA.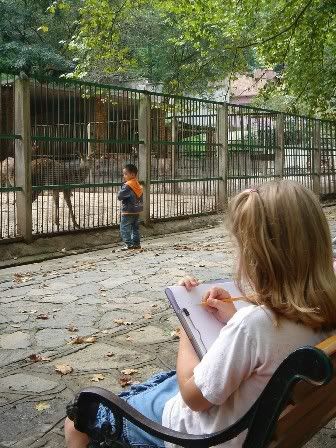 And I enjoyed some sketching too! I now have my very own nature journal. Here is my deer. The grasshopper (maybe a katydid) landed right on my paper, so I added him too!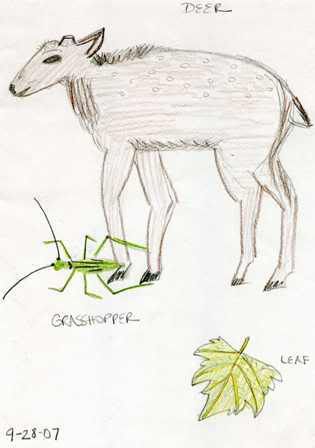 We fed the doves (the very overpriced seed and corn mixture) and really enjoyed watching them up close.
We both got some great sketches of them. First Sprite's and then mine. On the way home but still in the park, we saw a huge praying mantis clinging to a man's shirt. He said it was his pet! It wasn't convenient to draw it right there, so this is based on DD's memory the next day (and a glance at our insect reference book.)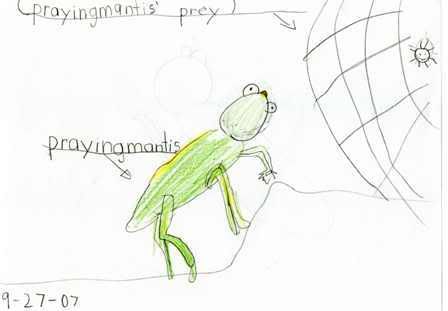 While DD fed the deer with beans we brought from home, I sketched a huge maple that had lost most of its leaves. I found those few minutes very relaxing. (It was just as Jill Novak writes in the article Drawing from Life — focusing on just one thing, my mind not cluttered by a host of concerns.)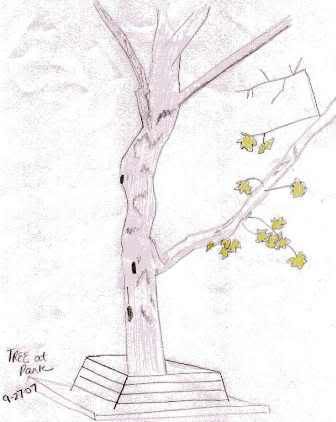 It was a bit embarrassing when people stopped to watch me draw. But I just went about my business as if I were a professional artist. I think my air of confidence must have convinced them. They commented that it was an excellent rendering. (HA HA!) But the point is, who cares? I let them watch, and I'm posting it here for the world to see. I am not a professional. I don't even want to be. I just want to enjoy nature, and part of that is sketching it. So if you're worried about your artistic ability, don't.