We've wrapped up another composer — Franz Joseph Haydn. This was our first time to read one of the Opal Wheeler biographies. I love these books! Joseph Haydn: The Merry Little Peasant was a delight to read. And the illustrations are adorable!
I strongly suggest the Opal Wheeler books; they are wonderful living books to introduce children to composers. Reading Haydn's biography in a narrative like this really helped us understand the composer. Then when I read the chapter from Spiritual Lives of the Great Composers, a much more advanced book, we already knew the basics of his life and Sprite could easily follow the much more condensed synopsis.

I also bought the companion CD to the Wheeler biography. On it are the music snippits that are featured in the text. And even better, the CD has selected illustrations to print and color. I was shocked that Sprite wanted to color every available page! We even photocopied other illustrations from the book that were not on the CD. She has never taken to coloring books; instead she prefers blank paper. But something about this story or the quality of the illustrations made her want to color them.

We used the coloring pages and some free notebooking pages (linked here at Joseph Haydn for Children) to make a nice booklet about Haydn.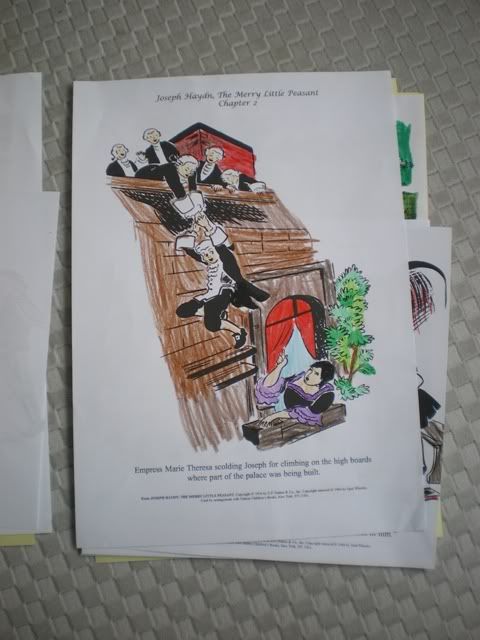 Oh, and we've started playing the Composers card game! (At $63 you don't want to buy this from Amazon! But maybe Rainbow Resource has it.)It was one I played as a child, so it brings back a lot of memories. It's a great way to become familiar with the names and faces of the  major composers from the Romantic and Classical periods.