Yes, we do a lot of crafts! And you may be wondering how we handle all these projects in our small apartment. We have no closets, no attic, and very little space altogether.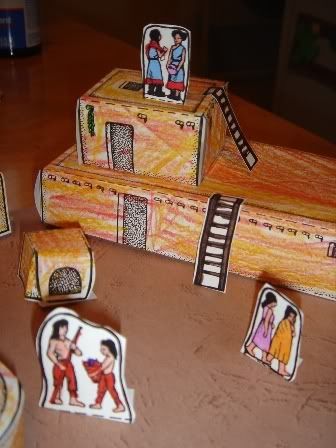 So what can we do with 3-D projects like this? Well, to be honest, they get thrown away! But not before documenting them with photos. Then the photos are uploaded to Flickr where they can be kept safe forever. (Flickr is a great tool for homeschoolers!) And we also blog them for a record. And as if that were not enough, I sometimes print out photos and add them to our notebook.
For example the WP notebook page for the Pueblo Indians was mostly text, with just a plain graphic. Not much for Sprite to do. And not at all engaging. So I printed out the photos of her 3-D project and let her select the most important paragraphs from the notebooking page. She designed this layout and came up with a much more engaging notebook page.